Conference Location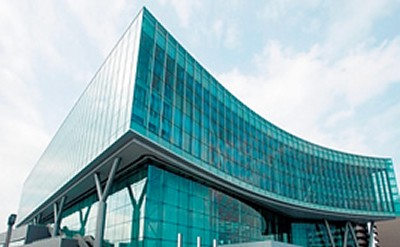 The conference will take place at Aiina Center, 1-7-1 Morioka Station West, Morioka City, Iwate Prefecture 020-0045. The Conference Banquet will be held at the Morioka Grand Hotel, on April 24.
Download the following guide with answers to all questions you may have regarding the location and how to get there:
Visit this page for travel, accommodation and excursion details

Morioka is the capital city of Iwate Prefecture, Japan. It was founded in 1597 by Nobunao, the 26th lord of the Nanbu clan, as a castle town. In 1655 Nanbu-han was divided into Morioka-han and Hachinohe-han. The city was designated the capital of Iwate on April 1, 1889.
Morioka is located in the Kitakami Basin at the confluence of three rivers, the Kitakami, the Shizukuishi and the Nakatsu. The Kitakami River is the second largest river on the Pacific side of Japan (after the Kiso Gawa) and the longest in Tohoku. It runs through the city from north to south. An active volcano, Mount Iwate, dominates the view to the northwest of the city. Mount Himekami is to the north and Mount Hayachine can sometimes be seen to the southeast.
Morioka is in the territory inhabited by the Emishi people in ancient times. The general Sakanoue no Tamuramaro, who was ordered to conquer the Emishi, built Shiwa Castle here in 803, and the region gradually was brought under imperial control. At the end of the Heian period, Morioka was under the control of the Ōshū Fujiwara Clan based in Hiraizumi, to the south of Morioka. The clan was destroyed by shogun Minamoto no Yoritomo, and the Kudo Clan replaced it. During the Muromachi period, the Nanbu clan, based in Sannohe to the north, expanded its territory and built Kozukata Castle here. Kozukata changed its name to Morioka in the 17th century. In the Boshin War, Morioka made a pro-shogunate alliance with Aizu, and fought against the imperial force. As a consequence Kozukata castle was destroyed in 1874.